BANNFOOT FERRY 3817
For more than 150 years the hand-operated Bannfoot Ferry carried a wide assortment of people, animals, horse-drawn carts & cars across the fast-flowing waters of the bann.
Located a quarter of a mile upstream from where Ulster's longest river flows into Lough Neagh, the privately-operated ferry transported passengers from one bank to the
other on demand until it ceased operating in 1979. The 24-hour ferry service not only saved drivers a round trip of 14 miles to the nearest bridge, but it also became
something of a tourist attraction over the years.In 1968, the ferry was even featured in a BBC drama called Boatman Do Not Tarry, in which the operator of a ferry to a
fictional Ulster peninsula went on strike. Taking industrial action was never really on the cards for the ferry's last operator, Willie Wilson, who was still plying across the
Bann waters at the remarkable age of 88. His family had been working the ferry for over a century and Willie had been operating it for nearly all of his working life.
When a car arrived to cross, he would guide it onto the floating platform, chock it into place, and then he would pull the ferry across by hand, using a heavy rope strung
across the river. However, the makeshift appearance of the ferry sometimes made passengers nervous, and Willie recalled one occasion when a woman refused point-blank
to travel on it in her husband's car. "The man went over on his own and left her behind," he said. "But about an hour later he was back inquiring anxiously about his wife.
He needn't have worried a bit. You see, there were plenty of auld fellows up there in the village who would have been glad of her to look after them."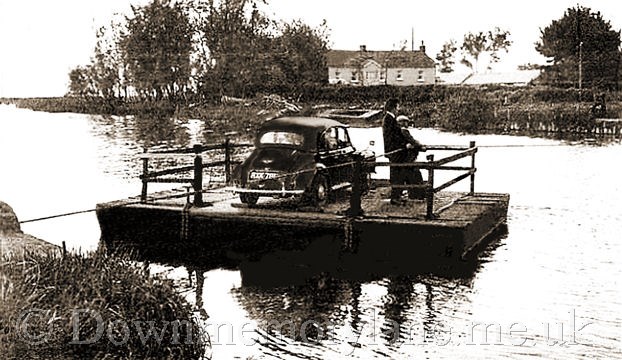 Pages: